Peer Lead programs put the power in Chamber Members' hands! Exactly what is sounds like, Peer Lead Roundtables are a chance to collaborate with local professionals in Morrisville, doing the same work as you. We're excited to offer a new opportunity to grow your business utilizing the expertise of your fellow members.
Small Business Owners Peer Roundtable
Owning a small business has its unique challenges and rewards.  Sometimes the journey can be lonely without like-minded individuals to share, brainstorm, and problem solve.
Our newest peer roundtable will be managed by Neal Sugarman, a former Chamber Ambassador and current owner of International Minute Press in Cary.
If you own a business with less than 10 employees and could benefit from quality interaction and confidential dialogue with others who understand the complexities of business ownership,
contact us
 to learn more.
Roundtable participation is limited to 10-12.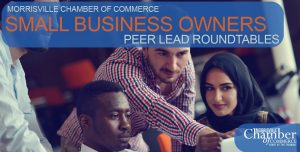 Sales Leader Roundtable
Will the benefit of support and collaboration take you to the next level?
If you're a sales leader in the Morrisville area, we invite you to join our new Sales Leader Roundtable for peer level sharing and professional growth. This is an opportunity for you to communicate challenges, brainstorm, and share expertise.
We promise you won't be "presented" to! Instead, you will give and receive in a safe and encouraging environment with your counterparts from various industries.
Roundtable participation is limited to 10-12.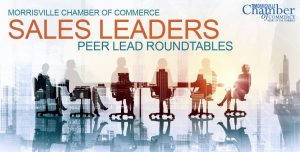 Young Professionals Network
The Young Professionals Network is a great place for individuals in similar places in their careers to connect,  build relationships, and socialize in a comfortable and fun environment. Events are free and open to professionals from ages 20 – 39.