Diversity, Equity & Inclusion Toolkit
The Morrisville Chamber of Commerce is committed to furthering diversity, equity, and inclusion efforts in our community. As a business affiliate and advocate, we want to celebrate members who are culturally inclusive in their workplace and be a resource to improve others. We have created new events to showcase the importance of these efforts and we are committed to continually providing resources for our members and community through this toolkit.
Organizations and institutions across the country are quickly realizing that diversity cannot be the end goal. Instead, we must develop safe, open, and inclusive environments for all to collaborate and co-exist. The Power of Inclusion Series highlights a specific topic of diversity, equity, and inclusion on a deeper level, giving business and community leaders additional resources to be inclusive in their everyday lives.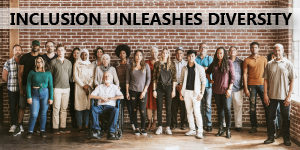 Resources From our Power of Inclusion Speakers
The Morrisville Chamber's Reading List
Triangle Area Minority Owned Businesses