The Morrisville Chamber of Commerce is committed to furthering diversity, equity, and inclusion efforts in our community. As a business affiliate and advocate, we want to celebrate members who are culturally inclusive in their workplace and be a resource to improve others. We have created new events to showcase the importance of these efforts and we are committed to continually providing resources for our members and community through this toolkit.
Organizations and institutions across the country are quickly realizing that diversity cannot be the end goal. Instead, we must develop safe, open, and inclusive environments for all to collaborate and co-exist. The Power of Inclusion Series highlights a specific topic of diversity, equity, and inclusion on a deeper level, giving business and community leaders additional resources to be inclusive in their everyday lives.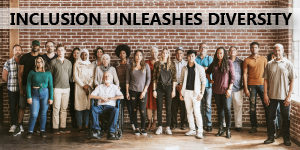 Power of Inclusion Event Series
Watch Previously Recorded Event Here
October 2021 - How To Be An Ally - Watch Here
2022 Theme: Fostering a Greenhouse for Others to Grow
Sponsor This Event Series! - Contact Us To Sponsor or download the 2022 Sponsorship
Packet
KNOW Event Series - Women Leading
Learn more about the Knowledgeable Network of Women here
Watch the latest event panel discussion here
ARE YOU AN INCLUSIVE LEADER?
Take this simple 5-question quiz to help you and your team find the gaps within your inclusive leadership.
From our Partners at The Diversity Movement
Here is a list of some prominent holidays in the coming months.
November
11/1/2021: All Saints Day (Christian)
11/1/2021: Samhain (Pagan)
11/2/2021: Día de los Muertos (Christian, Mexico)
11/4/2021: Diwali (Hindus, Jains, Sikhs)
11/8/2021: Birthday of Guru Nanak Ji (Sikh)
11/12/2021: Birth of Baha'u'llah (Baha'i)
11/24/2021: Jain New Year (Multi-faith)
11/25/2021: Native American Heritage Day
11/28-12/6/2021: Hanukkah (Jewish)
December
12/3/2021: International Day of Persons with Disabilities
12/16-12/24/2021: Las Posadas (Christian- Latin America)
12/21/2021: Yule (Pagan)
12/25/2021: Christmas (Christian)
12/26/2021: Boxing Day (Christian)
12/26/2021: Kwanzaa
January
1/1/2022: New Year's Day
1/1/2022: Gantan-sai (Shinto)
1/6/2022: Feast of the Epiphany (Christian)
1/7/2022: Coptic Orthodox Christmas (Orthodox Christian)
1/10/2022: Bodhi Day (Buddhist)
1/13/2022: Birthday of Guru Gobind Singh (Sikh)
1/14/2022: Orthodox New Year (Orthodox Christian)
From our Partners at The Diversity Movement
ERGs, BRGs, affinity groups… These acronyms and terms are appearing more and more often, both online and within organizations, but:
What are they?
What are the benefits?
How can an organization successfully establish (and maintain) them?
What are some common pitfalls to watch out for?
Download our guidebook to answer these questions and more.
Resources From our Power of Inclusion Speakers
The Morrisville Chamber's Reading List
Interested in sponsoring diversity, equity, and inclusion efforts in the Morrisville community? Contact us to learn more about getting involved with this initiative and other organizations in the Triangle.
Supporting Businesses Created Around Diversity
Triangle Area Minority Owned Businesses