2021 East Meets West Festival
What: The East Meets West Festival celebrates Morrisville, Wake County's most diverse community, with food, culture, and music from around the world.
When: September 1 - October 10, 2021
Where: Town of Morrisville
Celebrating the diversity of our Morrisville community, the 2021 festival will be a month-long celebration where we invite you and your families to explore new art, music, shops, and restaurants in an interactive and immersive way. See below for a schedule of events:
September 1 - 15: Online Art Contest Voting
September 30: Tailgate kick off celebration
October 1 - 10: Passport Scavenger Hunt & Immersive Art Gallery
Other activities to be announced are Bollywood Movie Night, Indian Music & Meals at the Hub, a cricket match, and more!
Kids Activity
Download the coloring page. Then, color in the world travelers and proudly display your finished artwork as a reminder of the upcoming East Meets West Festival.
Be sure to share your best work with us on Twitter and Facebook using #EMW by September 1, 2021 to be entered into the 2021 East Meets West Junior Art Gallery Contest!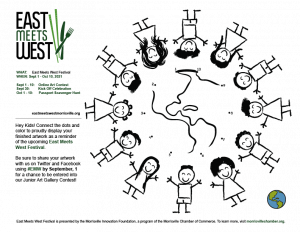 POLITICAL CAMPAIGNING AT CHAMBER/FOUNDATION EVENTS
The Morrisville Chamber is the only resource for non-partisan information on Town elections. While we do support issues and help to advance legislation that is pro-business, it is important to our Board of Directors that our organization remains non-partisan. Please remember, we DO NOT allow campaigning at Morrisville Chamber or Morrisville Innovation Foundation functions, programs or events. We certainly welcome candidates to attend our events and programs but respectfully require that you do not actively campaign while in attendance. What does this mean? You are welcome to network with attendees, exhibitors, and sponsors. You are not allowed to bring, put out or casually distribute any campaign collateral. If you or anyone from your election campaign is caught actively campaigning at a Chamber/Foundation function, you, unfortunately, will be asked to leave.